Australian Money Market treats security very seriously. We have procedures and processes in place to make sure that the security of clients' funds is never compromised. That's our promise to you.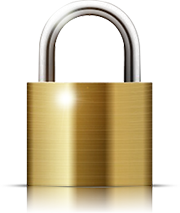 Personal Information Safe and Secure
It is important that you feel confident about the security of personal information. The information required to open an account is stored securely within our database. We do not use the details for any other purpose unless specifically instructed. We follow strict security procedures in both the storage and disclosure of personal information.
Investment always in Client's Name
The investment is always in the name of the client. Funds are always contained in accounts held with financial institutions in the client's name and can only be transferred into an account of the same name. Ownership of the funds cannot be transferred to anyone else. Australian Money Market does not hold any monies on trust for clients.
Transfer of Funds
When an investment option is selected, the Bank with whom the cash management account is held is instructed to send the funds according to the Standard Settlement Instructions (SSIs) of the chosen institution. Stringent checking processes are in place to ensure funds can only be sent to the SSIs of each institution.
Reconciliations
Reconciliations are undertaken at three different stages:
A cash reconciliation is conducted on T+1 to ensure that all expected cash movements from the previous business day did occur
Every deposit generates a confirmation from the institution that is sent to AMM, checked for accuracy, scanned and stored within AMM. This is then emailed out to you and your client (if an email address has been provided)
At each month end, a commission report is provided by each bank to AMM detailing all deals currently outstanding. These are reconciled back to AMM.
Covered by the Government Guarantee
All the banks, building societies and credit unions that we deal with are covered by the Government Guarantee Scheme up to an investment amount of up to $250,000 per entity and institution.
Professional Indemnity Insurance Cover
Australian Money Market is required to hold professional indemnity insurance to cover both civil and fraudulent actions.
FAQ's
What security is there behind the movement of funds?

Funds are always invested in the client's name. Australian Money Market only has the authority to move funds between approved institutions based solely upon the client's instructions.

If something happened to Australian Money Market, what would happen to the client's funds?

The client's funds would be unaffected as the investment with the chosen financial institution(s) is always in their name.

Who can authorise the transfer of funds?

Australian Money Market transfers the funds on the request of clients or their authorised representatives only.

Can funds be transferred to third parties?

No transfers to third parties can be made via AMM. Third party payments can be made from your Cash Management Account by contacting the Bank directly and providing signed instruction.

How long does it take for confirmations to be sent out?

Typically it can take up to two weeks from the deal start date for confirmations to be sent out by the chosen institution(s). AMM maintains processes to ensure that any deposits that have not had a confirmation within 2 weeks of the start date are chased up by the provider bank.

What is the Government Guarantee Scheme?

The Australian Government has guaranteed deposits up to $250,000 in Authorised Deposit-taking Institutions (ADIs). The cap applies per entity, per ADI.
BROWSE FAQ CATEGORIES